6. My first podcast appearance...
This week is about goal setting.
One of my goals for 2020 was to be a guest on a leading music industry podcast.

Goal achieved ✅
A couple of weeks ago, I recorded my first appearance on an industry-leading podcast 'BOOST', by Grahame Farmer. You can listen to the podcast below.

In the podcast we talk about:
How I'm becoming a better person after lockdown

My story - Alton Towers to Ibiza

Interviewing Pete Tong in person

My dream job at Ibiza Spotlight

Island partying + work balance

How I started working for FUSE + IMS Ibiza

Moving to London and the shock of normality

Peaking too early in my career

My new business @sociallysounddj

Leveraging Twitter and using it properly

What DJs and artists should be doing on social at the moment and how they should be doing it

Strap yourself in for this - we go deep!
---
But that's not all. I'm excited to announce I am also achieving two more goals this week:
Launch a social media course ✅

Speak at a music conference ✅
---
This Saturday, I speak on the Mixmasters Live - Virtual Online Event alongside the likes of Marshall Jefferson, Saytek, Huxley and Rebecca Smart-Bakken and Brandon Jackson.
I will be speaking about how to build a successful content strategy and launching my first ever course that will be available exclusively on Mixmasters in November.
You can book your seat via the link in the button below. I'll be speaking from 6 pm - 7 pm on Saturday 31st October.
---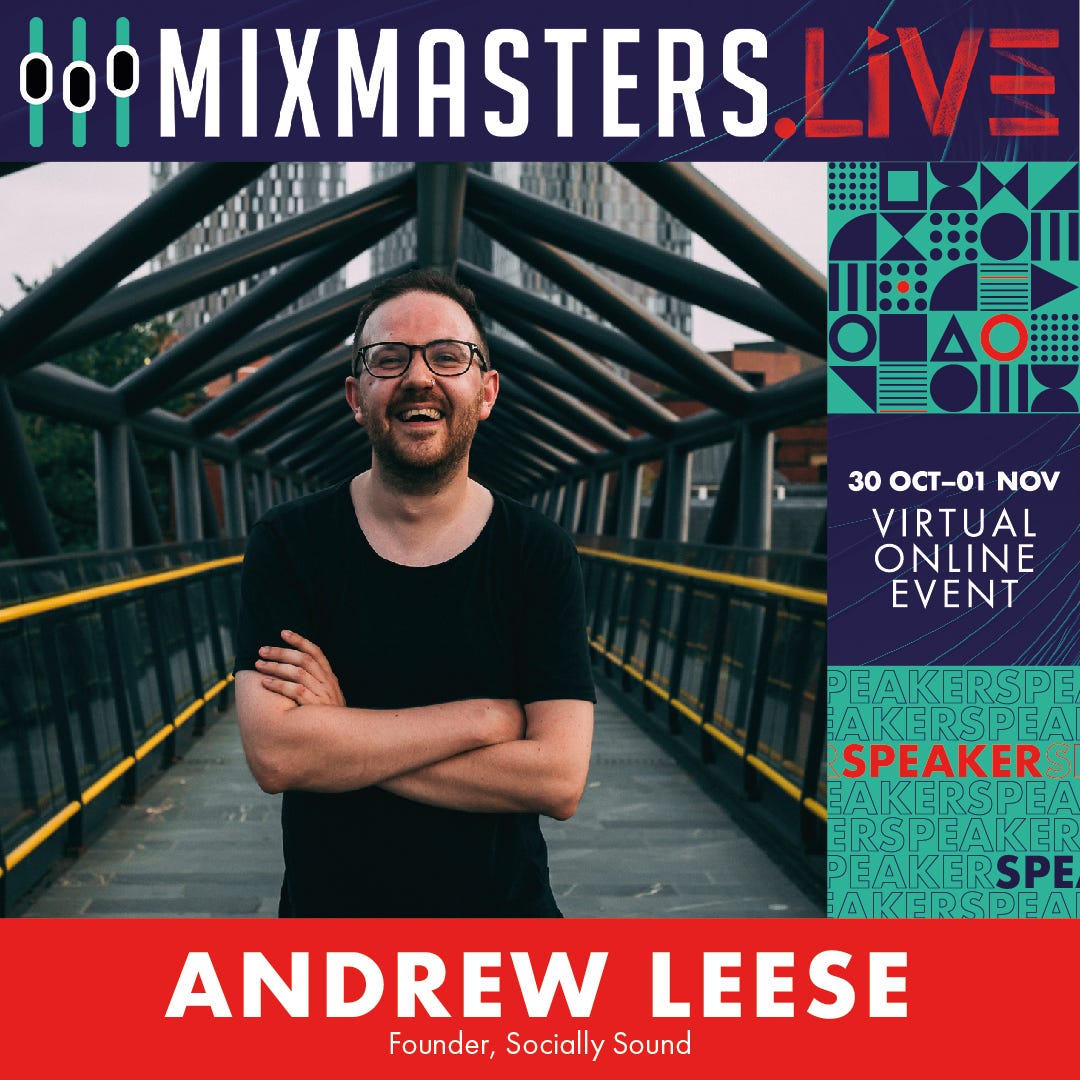 See you next Tuesday, at 9:02 AM.
---
Catch up on the previous Be Socially Sound newsletters:
And then follow me on Twitter at @andrewleese89.